Let's Get This Party Started!
Can we discuss for a moment just how beautiful the summers in Madison are?! I know I've mentioned, but the bike paths blow my mind! The beautiful trails permeate the landscape of the city making it easy to get anywhere without too much traffic or trouble. Anyway, this past weekend was my friend Mike's Birthday so we planned a nice day of biking and eating our way around town…. And it didn't disappoint. I mean, there's nothing better…. Madison's food scene makes it incredibly easy to gain a pound or two on any given day. Shout out to @eldoradogrillmadison for the perfect Breakfast Margarita (it's a standard margarita... just a little cheaper...) and to Lao Laan Xang for the best crab rangoon and pork egg rolls in the city....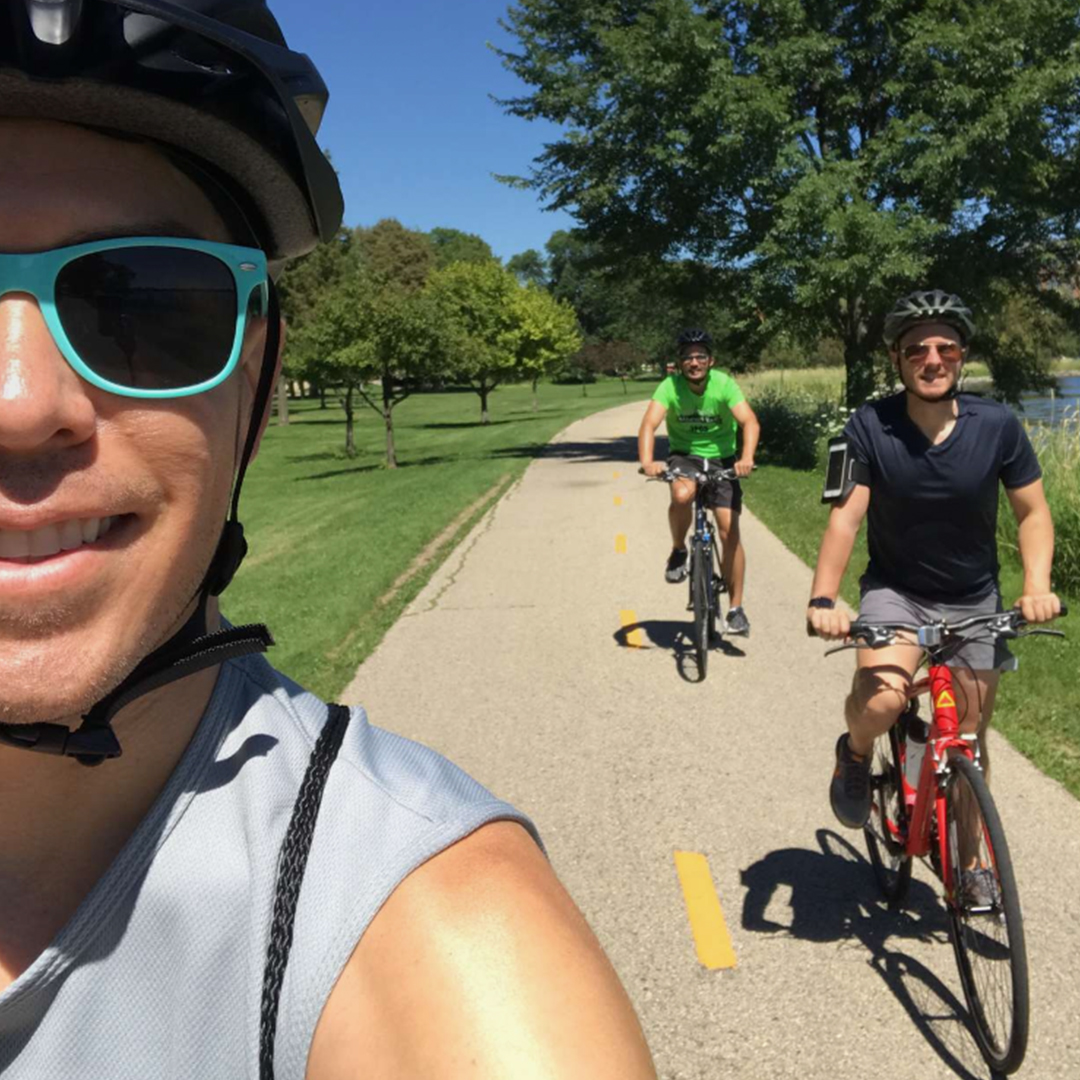 Okay, okay... to the cake. My first response to a Birthday is usually, "What dessert can I make you?" So I asked Mike's partner Eric for his favorite flavors... (because it's way more fun to surprise someone with sweets!) Eric responds with, "Oh… we're not really sweets people..." My reaction? "Oh really? Well, you could have fooled me since the two of you ate 3/4ths of the cherry tart I brought to dinner the other night…. What's Mike's favorite dessert?"
We decided to go with a take on tiramisu... I mean cake... soft and creamy mascarpone cheese... oh and coffee! I don't know about you, but it is necessary to get my daily party started with a cup of strong coffee…. So why not kick off Mike's Birthday and "My First Recipe Sharing" party with this coffee-infused Ombre Tiramisu Cake…
Layers of coffee and mascarpone frosting sandwiched between vanilla, chocolate, and espresso cake?! YES. PLEASE! Not to mention the beautiful ombre effect both inside and out… This cake is much easier than it appears… One simple batter, divided up, makes your three cake flavors… and one quick bowl of frosting, divided up makes, your three frosting flavors. Check out the recipe below (and a couple of #kitchenhacks and #kitchentips) and start your next party with this stunning cake.
Tiramisu Ombre Cake:
(Adapted from Sasha's recipe over at http://www.eatloveeats.com/)
Ingredients:
Cake:
1 cup, unsalted butter
1 cup, sugar
1 and 3/4 cups, flour,
4 teaspoons baking powder
½ teaspoon baking soda
3 large eggs + 1 yolk
¼ cup of milk
2 teaspoons vanilla (or ½ vanilla bean)
1 tablespoon espresso powder
1 tablespoon cocoa powder
Coffee Syrup:
1 tablespoon espresso powder
½ cup, sugar
½ cup, water
Mascarpone Frosting:
26oz, mascarpone cheese (cool)
2/3 cup, powdered sugar (sifted)
2 teaspoons vanilla (or ½ vanilla bean)
1 teaspoon espresso powder
1oz, dark chocolate
Optional: 1 tablespoon, milk
Instructions:
Preheat oven, 350F. Butter, flour, and line 4, 6" cake pans. (if you only have 2, no worries! You'll just need to bake your cake in two batches.)
Beat butter and sugar until light and fluffy. Add one egg at a time until just slightly mixed. At this time, I turn to good old man power and begin using a whisk by hand to add the milk and vanilla until just incorporated.
In another bowl, sift together flour, baking soda, and baking powder. Using a spatula, add your dry ingredients to the butter/sugar mixture and fold gently until all combined.
Now you're going to want to divide the batter up into 4 bowls. (Approximately 1 cup each). Into one bowl, add cocoa powder. Into two bowls, add ½ a tablespoon of espresso powder each.
Transfer batters to your prepped baking pans and bake for approx. 20 minutes (or until you can insert a skewer into the center of the cake and it comes out clean).
Let cool before removing cakes from pans.
Coffee Syrup:
Combine sugar, water, and espresso powered into pan. Heat until the sugar is dissolved and then cool before using.
Frosting:
Combine mascarpone and powdered sugar. (I recommend doing this by hand in a cool kitchen… Using an electric mixture will easily separate the mixture leaving you with curdled looking frosting… No fun. See below for a solution, should this happen.)
If frosting is too thick, feel free to add a tablespoon or two of milk to loosen the mixture.
Divide the frosting into 3 bowls (split in half, then separate one half for two quarters.)
In a heat-proof bowl, melt the dark chocolate and cool for a minute or two. Add chocolate to 1 of the smaller quarter bowls.
Add espresso into the other smaller quarter bowl.
Assembling the Cake:
Level your cakes using a serrated knife. Get those layers as flat as possible!
Place the chocolate layer on top of a cake turntable. Cover layer with the coffee syrup and then spread a thin layer of vanilla frosting on top. Repeat with both espresso layers, and top with the vanilla layer.
Using the vanilla frosting, spread a thin crumb coat to the entire cake then place in the refrigerator for 15-20 minutes before finishing the frosting process.
To create the ombre effect, start by spreading a layer of chocolate frosting across the bottom of your cake. Don't worry about being too precise… just get a nice layer across the bottom of the cake. Next add a thick layer of the espresso frosting across the middle of the cake and finish with a layer of vanilla frosting across the top.
Once you've got a nice thick, messy layer, take an offset spatula or straight edge and start using your turn table to smooth out the frosting. You'll quickly see your frosting combine and form the kick ass ombre effect.
ENJOY your masterpiece and caffeine-fix!
#KitchenTips & #KitchenHacks:
You're going to want to work in a cool kitchen when creating and working with the mascarpone frosting. If the room is too warm or you use an electric mixture and over beat, you're going to end up with a concoction that looks curdled! BOO!

Quick Fix: Place your broken frosting in a heat-proof bowl over a pot of slowly simmering water and beat until it pulls back together. You can see the result below. Don't let it get too warm or it'll just melt.... Whisk whisk whisk and it'll come back together very quickly. I would then let it firm up in the refridge for a moment before using....
That leads me to another #kitchentip... Be cautious when using an electric mixer vs. your own hands... Sometimes your own hands are more powerful than the mixer... It's incredibly easy to accidentally over beat your mixture. Using your hand provides much more control.
Until next time, take some time to start your day with a relaxing cup of coffee.... and a slice of cake... (or better yet, just go ahead and combine the two.)